Issue No. 2
The Official Newsletter of the Hurley-Pugh Owners & Enthusiasts Club
---
TT Fiasco Explained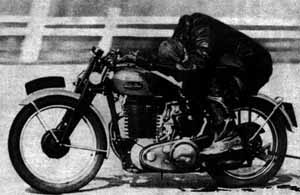 Although some members have, as a matter of stern principle, boycotted the TT ever since 1938, when grudging officials excluded "Killer" Steerforth after his historic 153 mph lap over an unsubstantiated and unthinkable allegation of course cutting, the Committee has made many attempts since to re-establish a presence on Mannanan's foggy and storm-lashed shores. It is therefore with enormous regret that we find ourselves again obliged to apologise to those friends of Hurley-Pugh who discovered that no actual Hurley-Pugh machines made it to the annual TT owners' gathering this year.
A series of unfortunate mishaps were responsible for this debacle. Club practice has always been that convoys are deployed across the full width of the carriageway because of the danger of dropped oil from the Pugh Patent Total Loss Lubrication System if riders should follow the same path. Matters came to a head on the M6 near Preston, when our echelon was intercepted by a police patrol car and forced to reform line astern. Down went all the rearward riders on the aforementioned slick.
Damage to 15 of the 16 machines was severe but we pressed on to board the quaintly rusting former Steam Packet flagship SS Ben-My-Ghoolie, now reflagged as the Turbo Shark by new owners Bermuda Triangle Holdings SA, at Heysham. Then a further incident occurred, when a deckhand made despicable remarks about Alaric Hugh's fondness for undoubtedly innocent horseplay with Manx sailors in his father's day, and we were obliged to administer a sound thrashing to the chap.
Fortunately, charges were dropped and we were released from custody once the Chief Constable, a member in good standing of Lodge 4107 (Good Works and Endurance) of the Order of Masons Bachelor, had been apprised of the fact that Sir John Hurley was the founder of the Masons Bachelor. However, we had missed the boat. Next year, we assure you, will be different.
"The Committee"
---