Issue No. 3
The Official Newsletter of the Hurley-Pugh Owners & Enthusiasts Club
---

From the workbench of "Brown Overall"
Mr. Heronimus Slit of Great Yarmouth writes: "My brother Bertie died in 1992 leaving, amongst other memorabilia, a box containing a rather pretty lace handkerchief and an unusual motorcycle rear suspension system, I believe intended for use with a Hurley-Pugh Excelsior? It is labelled 'PughRide II - Sodium-Cooled' Can you tell me more about this and if it is compatible with my nephew's H-P Manxman?"
"Brown Overall replies"
First, note that Exelsior was not spelled "Excelsior". This was to avoid public confusion with the Excelsior marque produced in the American Colonies (or what used to be the American Colonies, before a bout of weak government let them go to rack and ruin), and not, as has been alleged, due to a careless Braille translation for HP's Senior Production Manager in 1936. Next, let me put your second point straight - the Exelsior is actually one of the Manxman range, which included the Manxman Brooklands, the Manxman Clubman, the Manxman Manxman, the Manxman Brooklands Clubman, the Manxman Brooklands Manxman, the Manxman Brooklands Thruxton, the Manxman Clubman Brooklands Economy, the Manxman Clubman Llandudno, the Manxman Brooklands Clubman Touring, the Manxman Clubman Brooklands Manxman Manxman, the Manxman Manxman Manxman and the Manxman Thruxton Clubman Manxman Ladies' Touring (featuring Pugh Patent Sidesaddle Controls and Smelling Salts Applicator). All were available in "Standard" or "Supreme" trim. There is some overlap between parts for each model, though only the original Factory parts books can reveal the part numbering crossovers, as unfortunately each model has parts numbered entirely differently. So, taking your first point lastly, it is entirely possible that you are in possession of one of the few surviving, Pugh-Ride II Unique Patent Sodium & Water-Cooled Frictionless Coil Sprung Rotary Damper Rear Suspension units. I can only imagine that the damper is new and unused, as these units, though years ahead of their time, tended to leak the water-coolant past their chamois leather seals, causing some minor internal damage when mixed with the sodium core. In fact, few were fitted, as although uniquely small and lightweight, the lack of actual damping tended to promote high speed weave and rear wheel slippage, not to mention the tendency for the evolved hydrogen to set fire to the entire motorcycle.
I have passed your details to REME Bomb Disposal, who have the proper means to deal with this component. Still, sound engineering principles remain, for a lesser modern manufacturer to endorse.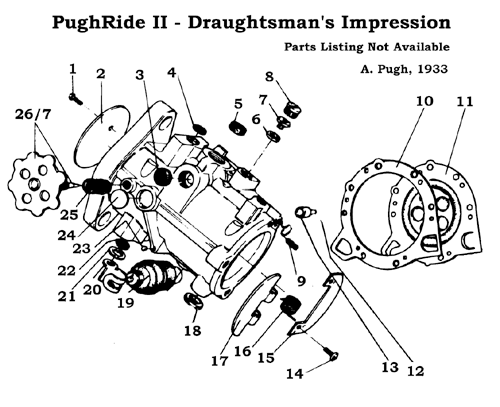 [previous article][next article]
---