Issue No. 5
The Official Newsletter of the Hurley-Pugh Owners & Enthusiasts Club
---
Sidney "Forelock" Tuggings
Another Graet character in Hurley-Pugh history remembered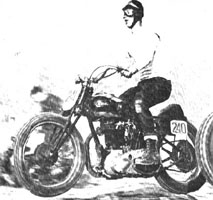 Enlisting in the 9th Battalion (Balloons & Railway Cuttings) of the Royal Engineers as Boy Drummer and "Forlorn Hope" Ballast in 1912, "Forelock" (a cognomen awarded in later years by Captain Eric "Killer" Steerforth MC) was discharged from the King's Service in 1919, having achieved the rank of Acting Lance-Sapper.
A chance meeting with Old Sir John Hurley in a Piccadilly gentleman's cloakroom saw him recruited to the service of the Graet Marque. His slight build, boyish good looks and detailed knowledge of dirigibles endeared him to both Sir John and Alaric Pugh alike for many years.
But then at the 1937 Prague 1000-Kilometre Cross Country Dash, "Forelock" was tragically mistaken for the Number Two Works Rider, the sensibly-shod Prudence ("Nartsey") Mitford, due to the tight kid leather uniform he wore as Sir John's chauffeur and right-hand-man. After being strapped to the saddle of the reserve Manxman Wildebeeste Deluxe All-Terrain, he was in 4th place ahead of Captain Steerforth when accidentally decapitated in the patchily-documented "Bolas Incident".
Although later investigations suggested that his insouciant riding style owed much to a wired-open throttle and a strange malfunction in the Prototype H-P Oil-Cooled Brakes, there can be no doubt that "Forelock", had he furthered his career in a more formal way, would most certainly have aspired to the right-markerdom in the ranks of British Motorcycling. His passing was much mourned and even the unsentimental Sir John was seen to shed a quiet tear as the stretcher and hat-box were brought home.
"Gaius Caligae"
[previous article][next article]
---