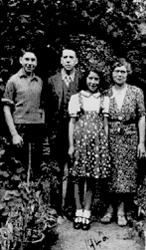 One of the few photographs of Nat (Nathan) Benjamin, retiring engineering genius and war hero, taken with his family in their quiet Grimsby home, circa 1942, when Nat must have been on home leave from the SAS, possibly serving in North Africa. Nat went missing, believed killed, in 1944, and shortly after the cessation of hostilities in Europe, his wife Lottie and children Jael and Saul made it alive to Eretz Israel, where they were to be happily reunited with Nat and together joined in the struggle for independence. Reports of Nat's involvement in the mysterious execution of Captain Eric 'Killer' Steerforth MC in the Golan have never been proven, though it is true to say no love was lost between the two men.

A Salute
...to Nat Benjamin of Assembly at Scunthorpe, a consummate craftsman who devoted his entire life to ensuring that all Hurley-Pugh Patent Indicator Assemblies were correctly installed on the Wildebeeste and Exelsior model lines, from 1928 to 1940.
Nat was a time-served sprocket thrunger, working on the Left-Hand-Line when Sir John Hurley spotted him, late one night, carrying out several performance modifications on 'Killer' Steerforth's Exelsior Clubman Supreme - the works entry for the 1938 TT.
Old JH immediately assessed Nat's potential and ordered that he be moved forthwith to the Patent Indicator Shop, where he remained until the RAF bombed the Scunthorpe Works flat on that awful high noon in September 1940, immediately after the Ministry Of Aircraft Production had decreed that henceforth the factory should produce Spitfires - or, rather, the Hurley-Pugh improvement on the primitive Supermarine model, the superb, if underrated by first-line air forces, Hurley-Pugh Musketeer.
After the disaster, Nat enlisted for service in the Army and was reported 'missing, believed killed' while serving with the SAS in Greece in 1944. Few will forget the joy with which it was heard that Colonel Nat Benjamin had surfaced as an officer in the Sayaret Matkal (which we understand to be equivalent to the NAAFI) of the new Israeli Army in 1948 and had immediately scoured the Near East for any remaining Hurley-Pughs to form the nucleus of the famous Binyimin Collection of these fine motorcycles.
Upon Nat's retirement in 1956, he followed a new career in the Mossad, or Ministry of Pensions, until his untimely death in 1973. No Israeli colonel ever assembled a straighter Patent Indicator Assembly.